Powerful club management tools are now a reality.
Managing a cricket club is a big task. Make it easy by having access to all the information you need in real-time.
Friendly Manager allows your club to create a connected ecosystem of data that with many levels of controlled access allows every member of the club to fulfil the requirements of their role.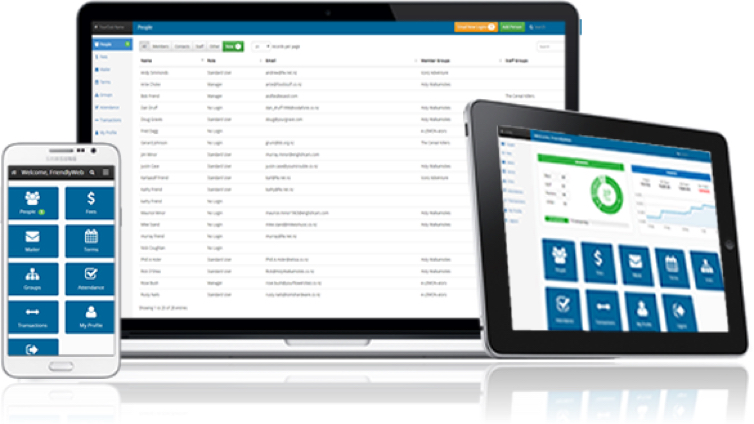 Cricket clubs all over NZ are using Friendly Manager to help run their club
All the features you need to run your club!
Simple
Registrations
Xero
Integration
Targeted On-brand
Communication


Uniform
Tracking
Easy Online
Payments
Coach and Manager
Dashboard
Powerful Competition
Management
FREE
Club Website
Automated
Invoicing
Drag and Drop
Team Builder
Track
Attendance
Mobile App
(Coming Soon)
It's not just about the features

The unique design of the Friendly Manager club management platform is what sets it apart as the industry leader. The deeply integrated functionality makes the user experience smooth and intuitive and easy to use.

That is why it is helping save clubs hours of administration time, every week.
Don't just take our word for it!
Here's what cricket clubs all over New Zealand have to say.
"After working with multiple XL spreadsheets for many years this season our Club decided to move to an integrated online membership management system with Friendly Manager. While any change presents challenges, we have been really pleased. It is easy to understand and offers great potential benefits for communicating with our members and managing our registration process. The service provided by the Friendly Manager team has also been first class".
Andrew Eade
Chairman, Suburbs New Lynn Cricket Club
"We found Friendly Manager easy to use and gave us significantly better ability to keep track of our members and to communicate with members, coaches/managers, and other volunteers. I would be happy to recommend this product to any sports club looking to streamline its administrative processes".
Hamish MacMllian
Chairman, Mount Maunganui Cricket Club - Tauranga
"Extremely user-friendly and easy to pick up and run with. The smooth transition from our previous system was effortless. We very quickly trained our users to use the system with minimal effort. We love the simple, clean interface, the integration with our website, and particularly the ability to email directly from Friendly Manager without having to manage cumbersome address books in Gmail. All in all, I definitely recommend Friendly Manager to other clubs who want to manage their club more effectively and efficiently, and ultimately giving you precious time back in your life.
Committee member
Albion Cricket Club, Tauranga
"Our experience with Friendly Manager has been nothing but positive. We feel more in control of what happens in the club and management has become less stressful. We have had absolutely no problems with registrations as opposed to multiple comebacks and problems in previous seasons. The free website is an absolute pleasure and is very user-friendly. We have received several calls and emails from club members complimenting us on the streamlined registration process and great new website".
Miandra Delport
Club Administrator, East Coast Bays
We are very happy with Friendly Manager. This is first time we are having online system for the club. Friendly Manager is not only cost effective but also easy to use. Kelvin and his team are amazing people and are always there for help
Akash Christian -
Club Manager, Birkenhead City Cricket